Hi Friends!
Hope all is well with everyone. I just wanted to send you all a quick note to let you know about a show here in Los Angeles next week and update you on the cd!
I'm very excited to tell you about my show next Wednesday, March 11th at Cafe Cordiale, in Sherman Oaks, CA. Show starts at 8:30! I'm really looking forward to playing here again for Hollowbody LA's Acoustic Cordiale show. Joining me will be my freinds Jeffery Marshall and PJ Zitarosa on guitars and Lexie Hofer on backup vocals. We will be doing several new songs from the upcoming cd live for the first time anywhere. This is a free show at a wonderful place to hear great music and eat great food in a comfortable setting, and there's a full bar too! There is lots of free parking and it open to all ages. Food is served until 10:30 and reservations are encouraged for the dinning area (818) 789-1985 but you can also have a seat at the bar and enjoy the show. The poster is below. Here is the link to the Facebook event page.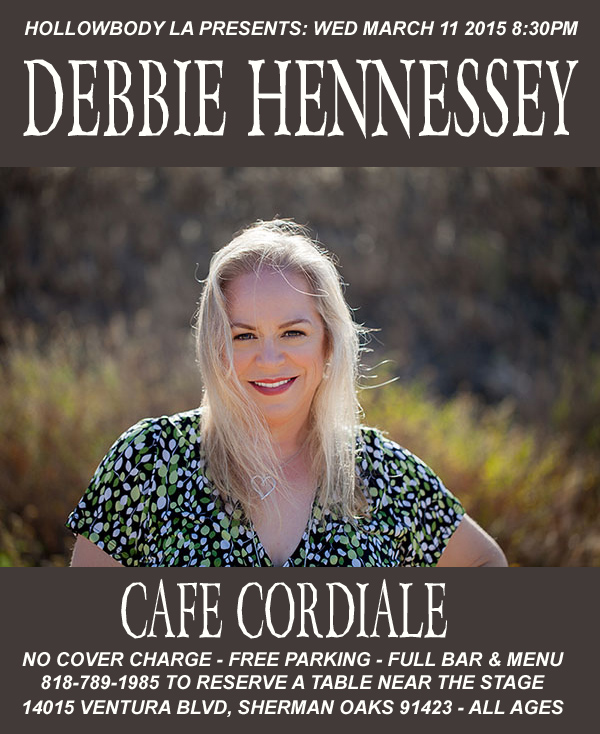 Tracks for new cd are really coming together. Producer Jeff Marshall continues to work his butt off and come up with the most amazing ideas. One of the best parts of doing this cd is getting to work with so many good friends including Lao Tizer who recently added his beautiful piano, Rhodes and organ tracks, and the wonderful Aubrey Richmond who will be adding violin in the next week or so. We'll bring you preveiws of the new songs soon but in the meantime you can take a listen to You Can't Unpull A Trigger, Sugar and Rain, or I'm Leaving The Fairytale Behind on my site. 
As always your support is greatly appreciated. Nobody could do all this alone and as I said, I've been especially blessed by my amazing players who I am also lucky to call my friends, so I hope you will check out their websites and show them some love! All my singles and cds are available at iTunes, CDBaby, and other legit music sites. Please be sure to leave me a rating or review as this will increase my chances of having my music discovered by others. Here's the link to my Facebook Music Page if you'd like to join me there. Take care, Debbie