Hi Kids,
November already?! Not sure how that happened. It seems this year has had its share of disasters both natural and man-made. The Havey and Irma hurricane benefit concerts I was involved with in September here in LA went great. We had so many wonderful artists come out to perform and we raised money for both people and animals with our silent auction items. Then last month the town of Santa Rosa in Sonoma Co. was hit hard by the recent fires. I went to junior high and high school in Santa Rosa, lived in the area for quite a while, and still have many friends there. The whole situation has been very upsetting and I'd like to do something to help so from Nov 1 to Dec 31, I will donate 50% of all music related sales to Sonoma County Animal Services. They have done an amazing job throughout this crisis for those that least understand what is happening to them. This goes for any and all sales, cds, digital, posters, etc. Below is one of my photos of beautiful Sonoma County.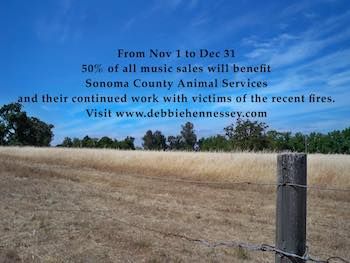 More events are coming but that's all the news for now. No Longer Broken is available at iTunes and CD Baby, physical copies of the cd are available at CD Baby where you can actually speak to a real person here in the US by calling 1-800-Buy-My-CD! Don't forget to leave a rating or short review wherever you purchase or listen to my music as it greatly increases the chances of my music being discovered by others. Here is the link to my Facebook Music Page if you'd like to join me there. Be sure to choose "get notifications" if you do, so you don't miss anything. I've been more active on my Twitter page and be sure to subscribe to my YouTube page as well.
As always, I am so very grateful for your support.
Debbie